Vancouver, BC
(VAC)
The water. The mountains. The pulse of the city. It's hard not to fall for Vancouver at first sight. Dig a little deeper and you'll uncover even more to love about the city, from shopping, dining and nightlife to unique districts, fun family attractions, and outdoor recreation. Vancouver is an international city with a friendly vibe and was also host of the 2010 Olympic and Paralympic Winter Games.
Vancouver has been a destination during the Depressions of the 1890s and later, as well as a gateway to the world, as it is the busiest seaport in Canada and exports more cargo than any other in North America. The economy has traditionally relied on British Columbia's resources: forestry, mining, fishing, and agriculture. However, it has diversified over time and today has become "Hollywood North," the third largest film-producing center in North America after Los Angeles and New York City.
Please arrive one hour early to allow time to clear customs and board the train.
accessible

Wheelchair accessible

wc

Public washrooms

family_restroom

Family washroom

baby_changing_station

Baby-changing station

people_alt

Ticket agent

microwave

Ticket vending machines

luggage

Checked baggage

foundation

Enclosed waiting area

local_parking

Paid short-term parking

local_parking

Paid overnight parking

wifi

Free WiFi

electrical_services

Mobile charging stations

local_atm

On-site ATM

payments

Money exchange

restaurant

Restaurants

local_cafe

Cafés

storefront

Newsstand

card_giftcard

Gift shop
Location
1150 Station Street
Vancouver
,
BC
V6A 4C7
Canada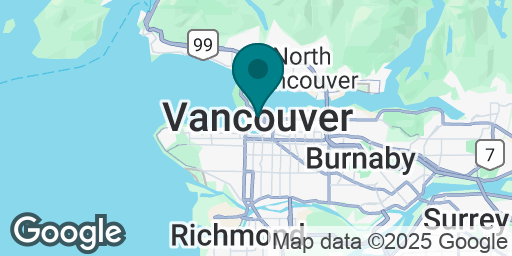 How to get there