Stanwood
(STW)
Stanwood is the northern-most city of Snohomish County and the gateway to beautiful Camano Island. There you will find Camano Island State Park featuring boating, camping, picnic facilities and endless beachcombing. The city also offers many galleries, farm fresh produce, and a variety of restaurants to please any palate.
The Stanwood station, which opened on November 21, 2009, represented a return of intercity passenger rail service to this community after a hiatus of 38 years, as the Great Northern Railway last stopped there in 1971. The main canopies on the platform are double roofs supported by open wooden trestles, reminiscent of barns, upon shaped concrete pillars. The new 600-foot platform is fully accessible and includes covered ramps, railings, seating, lighting, and landscaping to blend in with downtown Stanwood.
Stanwood sits about 50 miles north of Seattle at the mouth of the old channel of the Stillaguamish River and spreads across the river delta. The town began in 1866 with a saloon and trading locale near an encampment of the Stillaguamish ("people of the river") tribe, which served farmers and loggers traveling up and down the river. The first post office established the community as Centerville in 1870, and the town was platted in 1888 and incorporated in 1903.
Two prominent Norwegian settlers, Oliver B. Iverson and Reverend Christian Joergenson arrived in the 1880s, along with their relatives and friends, to farm and work in the logging camps nearby. Farmers built dams and dikes along the river and its sloughs, changing the landscape forever. The Norwegian heritage they brought with them is still celebrated today.
Amenities
accessible

Wheelchair accessible

no_accounts

No ticket agent

cancel_presentation

No ticket vending machines

no_luggage

No checked baggage

local_parking

Free short-term parking

local_parking

Free overnight parking
Location
27111 Florence Way
Stanwood
,
WA
98292
United States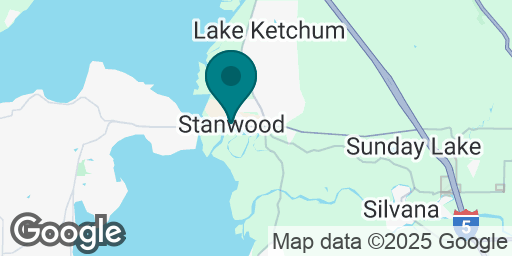 How to get there