Salem
(SLM)
"The Most Oregon Part of Oregon"
Salem is the capital of Oregon. The city is recognized for its scenic beauty, surrounded by gardens, fields of flowers, vineyards and green pastures. It is also perfectly located an hour from the ocean and an hour from the Cascade Mountains. It is at the heart of the Willamette Valley in the northern part of the state and boasts many unique attractions, including a gilded Oregon Pioneer atop the State Capitol building overlooking the surrounding landscape.
Visiting public gardens, children's museums, and riverfront carousels are some of the many fun things to do in Salem. And enchanted theme parks, prestigious universities, and the Willamette Heritage Center provide even more places to visit. Several outdoor attractions offer free things to do in Salem, including leisurely commutes through natural areas like Minto-Brown Island Park, where the setting sun often touches down in a sea of color.
Salem's beautifully restored railroad station was originally built during World War I and thousands of troops would travel to and through the station from Camp Adair during World War II. As Oregon's capital city, the station served as a venue for politicians conducting "whistle stop" campaigns, including four U.S. presidents: Woodrow Wilson, Warren G. Harding, Franklin D. Roosevelt and Dwight Eisenhower.
If you're looking for an authentic Oregon experience, Salem has it all. Offering the best of big city and small town Oregon, you'll find up-close and personal experiences with the crafters and creators, artists and entrepreneurs who call this region home. It's a thriving food-and-drink scene, bursting with quirky eateries, intimate wineries and craft breweries—along with an eclectic mix of food trucks, bakeries and more—all featuring ingredients that come straight from local farms.
accessible

Wheelchair accessible

wc

Public washrooms

baby_changing_station

Baby-changing station

people_alt

Ticket agent

microwave

Ticket vending machines

luggage

Checked baggage

foundation

Enclosed waiting area

local_parking

Free short-term parking

local_parking

Free overnight parking

luggage

Baggage Storage

child_care

Unaccompanied Minors
south
12:22

503

15:39

C. Starlight

19:17

505
north
6:41

500

14:04

C. Starlight

17:41

508
Location
500 13th Street SE
Salem
,
OR
97301
United States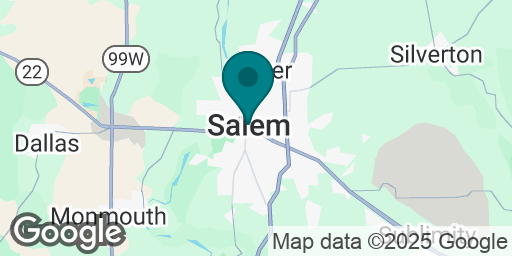 How to get there
Layover Activities