Portland
(PDX)
Oregon's largest city takes pride in being "weird".
Portland is best known for its hipster and crunchy (ie. extremely liberal and environmentally-friendly) behavior. The people are friendly, the food is great, and there are so many things to do...
It seems everyone feels some kind of way about Portland. Self-proclaimed "weird"—and committed to keeping it that way—Portland is known for the vibrancy and uniqueness of its many neighborhoods, each with a distinct sense of place. Locals will tell you: you haven't truly been to Portland until you've connected with its diverse communities. They are passionate about the arts, the environment, locally sourced foods, microbrews, green spaces, music of every kind and bicycle transportation…which may be the best way to get around the city. Look for bike share options at Union Station, or bring your own.
Portland is known for its beautiful parks, for being dead serious about politics and the environment, as well as for landmarks like the White Stag Sign and the 12 bridges spanning the Willamette River. The climate is ideal for growing roses, and Portland has been called the "City of Roses"
Located within Portland's central city, Union Station is one of two designated multi-modal hubs that provide convenient connections between passenger rail, light rail, intra- and inter-city buses, streetcar lines, taxis, and various shuttle services. In addition to Amtrak, the station is home to approximately twenty small office tenants and a restaurant. Portland's Union Station frequently rivals Seattle's King Street Station as the most heavily used passenger station on the Amtrak Cascades corridor.
Head on over to Portland to experience these activities and more firsthand.
Travelportland.com
accessible

Wheelchair accessible

wc

Public washrooms

family_restroom

Family washroom

baby_changing_station

Baby-changing station

people_alt

Ticket agent

microwave

Ticket vending machines

luggage

Checked baggage

foundation

Enclosed waiting area

pedal_bike

Bicycle storage lockers

local_parking

Paid short-term parking

local_parking

Paid overnight parking

local_atm

On-site ATM

restaurant

Restaurant
south
10:47

503

13:50

C. Starlight

17:37

505

21:35

507
north
8:20

500

12:00

504

17:56

C. Starlight

19:25

508
Location
800 NW 6th Avenue
Portland
,
OR
97209
United States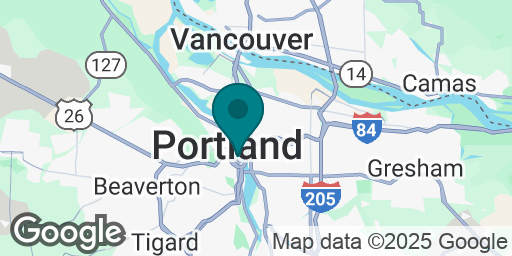 How to get there
Layover Activities
Things to do in less than an hour between trains and buses.
Eateries
Wilf's Restaurant and Jazz Bar at Union Station
Republica
Burrito Bar
Piazza Italia
The Fields Bar & Grill
Brix Tavern
Andina
Mediterranean Exploration Company
Piattino
Oven and Shaker
Deschutes Brewery and Public House
Screen Door Pearl District
Trattoria Gallo Nero
Foodcartsportland.com
Attractions
Neighborhoods
An award-winning, internationally recognized leader in urban renewal; this neighborhood is often considered the "gold standard" of life, work and play mixed-use space.
A trip to Portland isn't complete with a visit to Powell's, the largest independent new and used bookstore in the world.