Olympia-Lacey
(OLW)
Learn about state government at Washington's capitol. Visit the majestic capitol dome building and listen to a bill being debated on the legislative floor. The station was built through volunteers' hard work and donations and is still staffed entirely by volunteers and rail buffs.
The wooden facility is 2,800 square feet, and though designed in the manner of a classic railway station, the Centennial Station features modern electronics and airline-style information signage, and monitors the platform and parking facility with video surveillance. It also features energy-conserving construction. The decorative corbels under the eaves, which were obtained from New Orleans, are 150-years old and made of solid cypress.
The area that would become Olympia is situated at the southernmost tip of Puget Sound on Budd Inlet. The abundant shellfish on the tidal flats and the salmon-spawning streams entering the Sound there had made it a favorite fishing spot for the native people. The site was first charted by Europeans in 1792 by Peter Puget and a crew from the British Vancouver Expedition. The Hudson Bay Company, a major force in the early settlement of the area, established Fort Nisqually, a trading post, on Sequalitchew Creek in 1833. French missionaries, at the request of the Hudson Bay Company, established the Mission St. Joseph of Newmarket and school in the 1840s at a time when the first American settlers were coming to what became the Oregon Territories. In 1852, Olympia became the county seat of Thurston County.
Olympia became the state capital when Washington gained statehood in 1889. Aside from government, the city's primary economy has been based on timber, oystering, sawmilling, food canning and other related concerns. It also served as a shipping port for materials produced locally. Since the 1960s, Olympia has lost much of its waterfront industrial business, including the lumber and plywood mills, shipbuilding and power pole manufacturing, and the waterfront has undergone a gradual process of gentrification.
Lacey is a suburb of Olympia, Washington State's Capitol.
Amenities
accessible

Wheelchair accessible

wc

Public washrooms

no_accounts

No ticket agent

microwave

Ticket vending machines

no_luggage

No checked baggage

local_parking

Free short-term parking

local_parking

Free overnight parking

bento

Snack machines
Location
6600 Yelm Highway SE
Olympia
,
WA
98513
United States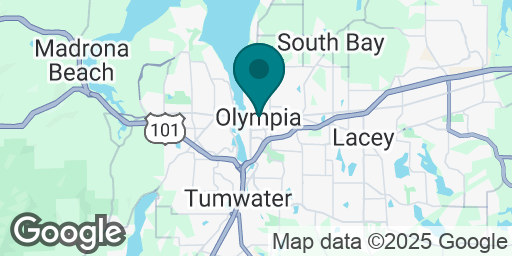 How to get there