Mt Vernon
(MVW)
Nestled between the San Juan Islands and North Cascades, Mount Vernon is an adventurer's paradise. Whether your sense of fun takes you kayaking, biking, or shopping at nearby outlet stores, there's fun for everyone in the family!
When the first European settlers arrived in the Skagit Valley area, they found a few prairie regions, but mostly a lush river delta of mud flats and salt marshes at the Skagit River's mouth, surrounded by towering forests that came down to the water's edge.
Coal and logging were where the local wealth was made, and the delta was and is extremely fertile and agriculturally productive. Gigantic Douglas fir, western hemlock, and western red cedar trees grew hundreds of feet high, and often the stumps were large enough to use as living quarters—and sometimes were. One fir in nearby Sedro was recorded at 54 feet in diameter and 328 feet high.
Mount Vernon is known today for its large and showy annual Tulip Festival visited by hundreds of thousand of people. The area is also home to many large flower bulb nurseries that ship nationwide.
Amenities
accessible

Wheelchair accessible

wc

Public washrooms

baby_changing_station

Baby-changing station

no_accounts

No ticket agent

microwave

Ticket vending machines

no_luggage

No checked baggage

local_parking

Free short-term parking

wifi

Free WiFi

local_cafe

Café

bento

Snack machines
Location
105 East Kincaid
Mt. Vernon
,
WA
98273
United States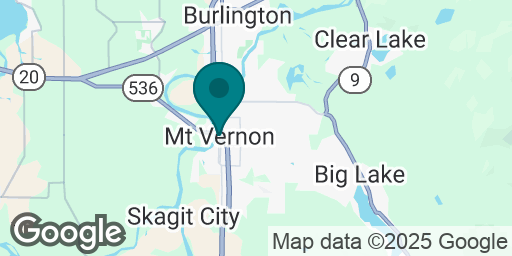 How to get there