Kelso-Longview
(KEL)
Kelso, which lies to the west of Mount Saint Helens, had a front-row seat for the eruption on May 18, 1980. Many areas of the city, notably the Three Rivers Shopping Mall, are built on volcanic ash dredged from the mudflow that went into the Cowlitz River.
Kelso lies on the eastern bank of the Cowlitz, directly across from Longview. Though Kelso is the county seat, Longview is the larger town. In 1918, timber baron Robert A. Long decided to move his operation out to the west coast due to dwindling supplies in the South. When moving out to their new mill, it became clear that the population of the small town of Kelso could not support the 14,000 men that would be required to run the mill. Therefore, the Long-Bell Company contracted with a city planner based in St. Louis, George Kessler, to build the city that could support the two planned mills.
Longview has diversified from its mill-town origins, but the lumber industry still remains very important there.
Longview has had several films shot there over the years, from God's Country and the Woman (1937) to Into the Wild (2007) and Mindhunter (2008). It is also one of the few towns in the U.S. to have a bridge dedicated to squirrels. The "Nutty Narrows Bridge" surface was constructed in 1963 over Olympic Way, in front of the public library, from a retired fire hose and suspension cables made from wire. Longview is also the home of the largest pine nut collection in the United States, which is housed in the Northwest Nut and Conifer Preservation Center, owned and operated by a local enthusiast. Kelso is also host to an annual Highlander Festival of Scottish culture every September.
Amenities
accessible

Wheelchair accessible

wc

Public washrooms

no_accounts

No ticket agent

microwave

Ticket vending machines

no_luggage

No checked baggage

local_parking

Free short-term parking

local_parking

Free overnight parking

bento

Snack machines
Location
501 South First Ave
Kelso
,
WA
98626
United States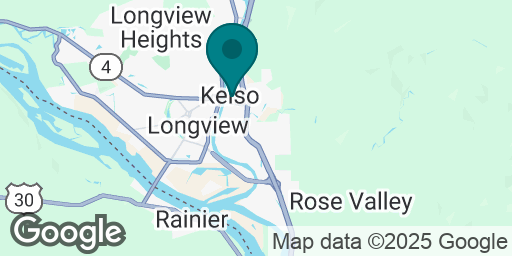 How to get there