Tukwila
(TUK)
Best Stop for Seattle-Tacoma International Airport (SEA)
No exaggeration: Southcenter mall is one of the best shopping locations a traveler can experience. With over 5 million sq. ft. of shopping, you're sure to find the perfect gift and the perfect fit.
Seattle-Tacoma International Airport is an easy 5-minute cab ride away. Local hotels welcome you.
Tukwila, on the peninsula south of Seattle and just west of Renton, lies at the north-flowing conjunction of the Green and Black Rivers where they become the Duwamish. The area was named by the resident Duwamish peoples for the thick hazelnut forests that grew there. Non-native settlers first arrived in the 1850s via river and wagon to farm the rich soil of the Duwamish River Valley.
The community's location at the crossroads of historic rivers and trails – and highways and railroads today – has made it a local center of commerce. In the 1860s, travel was by flat-bottomed river boat that ran from Seattle to Auburn and back, carrying coal, produce, and livestock as well as passengers. At that time, it took two days to get to Seattle from Tukwila.
In 1908, Tukwila incorporated as a city. Today, it is still a center of commerce, and is home to several Boeing corporate facilities as well as a number of Internet and corporate data centers, including Microsoft, InterNAP and the University of Washington. Most are located close to the Tukwila station on the Sabey Corporation's Intergate Seattle campus near Boeing Field and only a few miles from Seattle-Tacoma International Airport.
The Museum of Flight, the largest private air and space museum in the world, is located just north of Tukwila. It has an outdoor, large aircraft display area featuring the prototypes of the Boeing 737 and 747, America's first jet Air Force One, an American Airlines 727-200, and a British Airways Concorde—the only one on display on the West Coast. The public can tour both Air Force One and the Concorde.
Tukwila was the birthplace of Nintendo America.
Amenities
accessible

Wheelchair accessible

no_accounts

No ticket agent

cancel_presentation

No ticket vending machines

no_luggage

No checked baggage

pedal_bike

Bicycle storage lockers

local_airport

Airport connection

local_parking

Free short-term parking

local_parking

Free overnight parking
Location
7301 Longacres Way
Tukwila
,
WA
98188
United States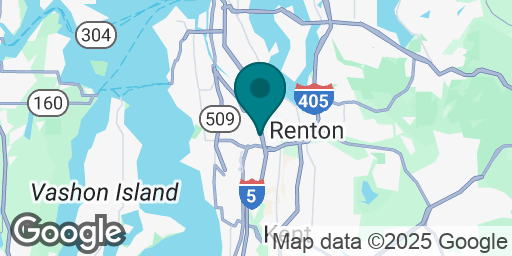 How to get there