Eugene-Springfield
(EUG)
Next Stop: Oregon Ducks and Farm-to-Table Eateries
Eugene is a vibrant college town (home to the University of Oregon Ducks) that prides itself as TrackTown USA, where running shoes are the norm and large track & field events regularly occur.
The Eugene depot at the north end of Willamette provides an attractive gateway into the city. It is a multi-modal transportation facility that accommodates train passengers, motorists, bus users, bicyclists and pedestrians, while preserving historic features and providing safe, convenient and accessible facilities for visitors.
The depot is situated in the heart of Eugene's historic downtown surrounded by hotels, fine dining, shopping and performing arts venues. Markets, celebrations and street fairs keep this community hopping. Golf courses, breweries, art galleries and sports venues are integrated in the business district, so fun naturally follows work. With award-winning public transportation and dedicated bike lanes, it's super easy to explore Eugene on foot, wheels or rails.
Whether you are a student exploring college choices or living on campus, or a parent visiting your student at school, or just someone seeking to explore, Eugene is a great city to visit!
Questions about the area or ready to plan your visit to Eugene? Call or text visitor services at Eugene, Cascades & Coast at (541) 484-5307
accessible

Wheelchair accessible

wc

Public washrooms

baby_changing_station

Baby-changing station

people_alt

Ticket agent

microwave

Ticket vending machines

luggage

Checked baggage

foundation

Enclosed waiting area

local_parking

Free short-term parking

local_parking

Free overnight parking

local_atm

On-site ATM

restaurant

Restaurant
south
13:50

503

17:08

C. Starlight

20:40

505
north
5:30

500

12:37

C. Starlight

16:30

508
Location
433 Willamette Street
Eugene
,
OR
97401
United States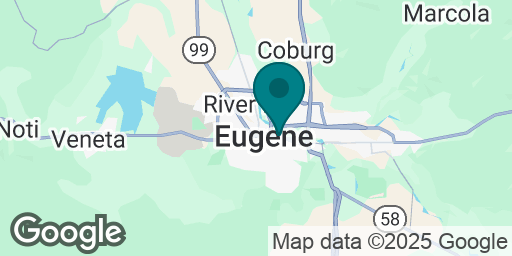 How to get there